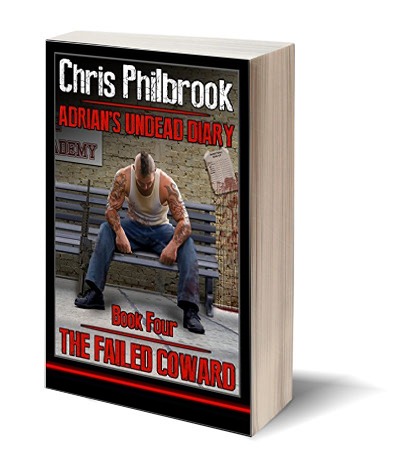 Aware that he's the focus of whether or not humanity survives the apocalypse, Adrian focuses on doing what must be done; be a better man, and ensure those around him survive.
About the Book
A sinister darkness has finally cast its long shadow across the world, and Adrian Ring now suspects he's at the center of the maelstrom. And he's not alone. Even overseas, his friend Kevin is somehow standing at his side.
At Auburn Lake, Adrian and his adopted family finally understand that the dreams they have suffered since the end of the world are far more than restless imaginings. When a thousand mindless dead arrive holding books, can it be anything but a message from beyond the grave? Soon they will learn that what the dead say can be far worse than what the dead have done.
In The Failed Coward, the fourth installment in the epic Adrian's Undead Diary series, Adrian realizes the scope of humanity's struggle, and just what's at stake. Despite all the dangers posed by the world around him, Adrian pushes out more aggressively, reclaiming more and more territory from the clutches of the treasonous survivors and the walking dead. Adrian's world is also expanded with more short stories. New questions are raised, and new characters introduced. And they will need all the help they can get to stay alive. In the end, everyone may need Adrian's help.
"I am completely addicted to this series. I can't stress enough how fantastic it is. The characters are so cleverly written and the dynamic between them is exhilarating. The humor, the setting, the side stories, all add up to a big fat win for Chris Philbrook. Keep em coming Chris. Don't make me wait too long to get my next fix or I may go into withdrawals. Adrian's Undead Diary is on the fast track to solidifying it's place in The Bookie Monster's best of 2014 list! If you haven't started this series yet, well, then I don't know how else to convince you…short of bashing you over the head with the books. Give in, go grab your copy, and join me…I'll be drooling in the corner waiting for book five. Aren't ready to make the investment?" -The Bookie Monster's 5 star review
In this, the Fourth book of the smash zombie hit Adrian's Undead Diary series, readers will find Adrian's journal entries from March 5th, 2011 to April 29th, 2011. Included with his own writing are the short stories Sweetest Amy, Gasoline, The Siege of Mildenhall, and The Golden Palace.
Other Books in "Adrian's Undead Diary"