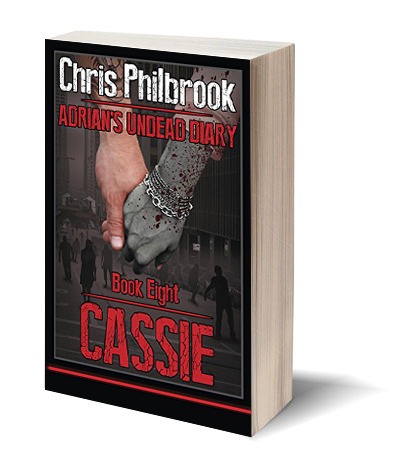 After nearly dying at the hands of evil's minion, Adrian Ring--bolstered by the presence of Kevin and Michelle--embarks on his final quest, his final test.
About the Book
The eighth and final book of Adrian's Undead Diary.
One last test. One last quest. Adrian and the men and women who love him head deep into the city in search of the one thing that may save Adrian's soul, and the entire world. Redemption. But before he earns what he needs so desperately, there will be blood, and there will be death.
Cassie contains Adrian's journal entries from December 24th, 2011 to March 19th 2012. It also contains the side fictions And the Bombs Fell, Cassie, and The Crucible.
"Well-rounded and intriguing story arcs, three dimensional characters, and the perfect blend of humor and horror create the exquisite amalgam that is Adrian's Undead Diary. Philbrook earns his place in The Bookie Monster's hall of fame best reads," SHANA FESTA, THE BOOKIE MONSTER & AUTHOR OF TIME OF DEATH
Other Books in "Adrian's Undead Diary"